NFT Digital Art Scene at a Glance
The two recent exclusive editions as a pre-drop event for the upcoming NFT Korea Festival at DDP in March has been a great success, being sold-out to a high-bid price!

Immerse yourself with over 120 works by 120 star international and local artists at one of the largest NFT festivals in Asia!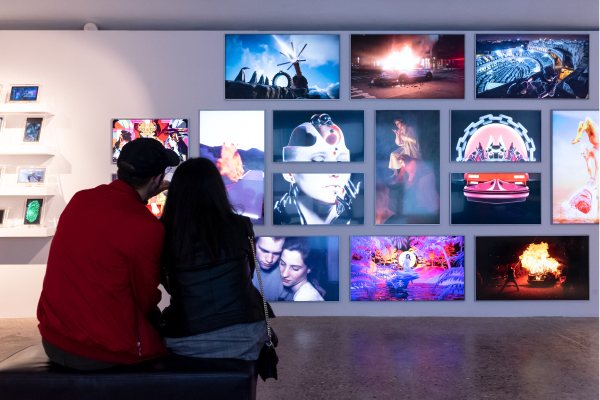 Never-Before-Seen NFT Collectibles
Don't miss your opportunity to own high-value NFTs and take part in the exhibition. All works are available for immediate purchase, and you'll receive weekly rewards through playNomm's innovative 'Act to Earn (A2E)' reward model.
What's playNomm A2E Activity Reward?
playNomm offers diverse reward options to maximize benefits for all users.
NFT Collectibles by High-end Artists + Act To Earn Rewards System
Shop NFT arts at the festival using LM Coins.
There's a special surprise for you in each piece – Bonus LM Coins!

Check for yourself what treasures await you at the festival!
click Here
Blue Chip NFT Lucky draw
Money-raining Luckydraw
Get yourself rich with blue-chip NFTs and Easter Eggs
THE EXCLUSIVE OFFERINGS for playNomm Users!

Don't miss your chance to discover rare and valuable prizes.
Whole new experience & Networking
At the NKF Festival, you are the star.
The festival is not just an exhibition, but a gathering place for like-minded individuals to share a vision for the future.
Additionally, various interactive activities are offered to enhance your experience and create lasting memories.
일정표
3/7(TUE)
3/8(WED)
10am
Exhibition

(10:00 ~ 20:00)

Exhibition

(10:00 ~ 17:00)

11am
Opening Ceremony

(11:00 ~ 12:00)

12pm
Panel Discussions

(12:00 ~ 17:30)

Panel Discussion

(12:00 ~ 15:30)

1pm
2pm
3pm
4pm
Artist Award Ceremony

(16:00 ~ 17:00)

5pm
Private After Party
150 spot only – Speakers, Sponsors, Artists

(17:00 ~ 23:00)

6pm
Networking Mixer
&
Lucky Draw

(18:00 ~ 20:00)

7pm
8pm